Tournament News
PR Tournament Campaign 11 - TEAMS ASSIGNED!
Sep 22, 2015 - 11:05 PM - by [T-ADM]Nate

This week both teams' staff has been busy picking map layers and no-go zones and discuss factions for the prep battles. The teams also took care of balance and the officers and grunts were distributed among the teams. With this complete, it was time for the team assignment! After a random selection procedure, the following assignment came forward: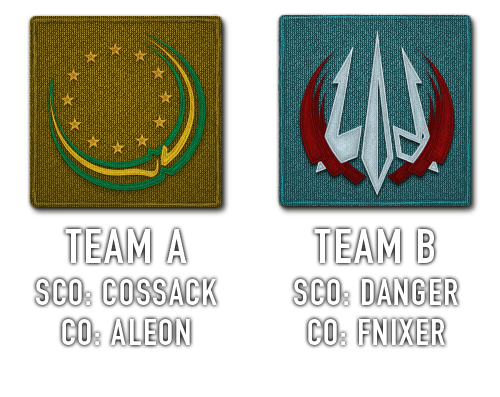 The Mediterranean Response Force (MRF) will be played by Team A; the Pacific Defense Initiative (PDI) will be played by Team B. We are sure that everyone will have a great campaign with the new teams!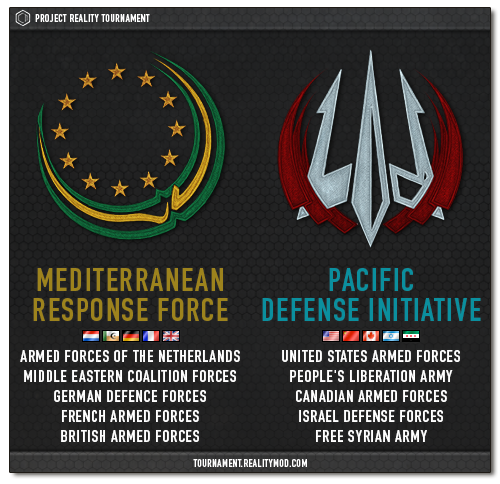 Check your Signup Status Page to see and confirm which team you're assigned to. If the page only says that the Signups are Closed, that means that you haven't signed up for this campaign.

The procedure for the next days is as follows:



Quote:

- Team Staff will be moved to their new forums and have time to set up their forums to accomodate everyone.

- Only after that, the admin team will start to mass-move players to the respective user groups.

- Once added, you will see your team's forums. There will be one thread with all relevant information (Teamspeak, LoA System, Roster, ..) where you will have to report in!. If you do not do this, you will not receive your team tags and be removed from your team!.

- After you reported in, the admin team will change your forum nickname to include your team's tags:


Quote:

[PR]PDI|Name
[PR]MRF|Name

Please be aware that this means you will have to use the new name when you log in to the forums!

As we get closer to the start of Campaign 11, every Team Member or Reserve who is Inactive and hasn't logged in on the PRT Forum for more than a week may be bumped down the list or completely removed from the team he was previously assigned to.

It's time for the propaganda machinery to start up, for team strategies to be made. Play hard, but fair and above all - have fun! Good luck to all members! We are DEFCON 2, ladies & gentlemen! Grab your rifle and get ready for battle!


The interactive
operations map
will be updated with all layers and gamemodes soon.
-------------------------
Quick Links
PR Tournament Website
How-To Sign-Up
Tournament FAQ
Tournament Rules
Battle & Practice Schedule
IRC:
server:
irc.quakenet.org |
channel:
prtournament (
autoconnect
)
26 Replies | 1,529 Views
PR Tournament Campaign 11 - Soldier SignUps Open: Enlist now!
Sep 21, 2015 - 7:57 PM - by [T-ADM]Nate
Recruits, Sign-Ups are Open!



After reviewing over 50 applications for officer positions, the Supreme Commanders are now ready to receive applications for grunt positions in both teams! In the past week, the teams have been working on setting up a team structure, contacting their officers, and assigning roles and responsibilities to ensure that the team staff and the squad leaders are dedicated and active to provide everyone with a great campaign.



Support your team by organizing and participating in team and squad trainings or help planning the strategy for the next battle. If you prove your leadership and fighting skills on the battlefield, work on your team's propaganda or recruit and train members for your team you can move up the ranks easily, as the past campaigns have shown.

Case in point, many of the staff of both teams joined PRT Campaign 10 as normal soldiers and were quickly promoted to SL and even higher for their work for the team. Do not hesitate to join up - even if it's only a reserve slot - everyone gets their fair chance to play and be promoted to normal soldier!



Find new friends to play with - from all over the world! Enjoy PR with a tight-knit group of likeminded players
Battles take place every two weeks, Saturdays at 19:00 PR Time.

Training and playing sessions are organized by teams and squads.
Two new teams: "Pacific Defense Initiative" (PDI) and "Mediterranean Response Force" (MRF).
Dynamic and interactive campaign world map that pairs up a multitude of PR maps and layouts in several "Operations" requires strategy and planning between battles to win the campaign.
Interactive battleplanning tool with map and asset information.
Extensive forums for preparation, communication and organization for both teams.
Tournament battle server and training servers for each team
... and much more!

The teams will be filled with members first. Only after that, the Supreme Commanders will decide which team plays PDI and which one plays MRF. When this is done, every player will have their team tag "[PR]PDI|" or "[PR]MRF|" added in front of their forum nickname (- be aware that your username will change at that time!)

This will mark the official start of the campaign and everyone will get access to the Team forums and teamspeak channels.

The administration is looking forward to welcoming you all to the Official Project Reality Tournament! We are here to answer all the questions you might have and are working hard to make sure you get what matters - the best Project Reality gameplay possible.

How to Sign Up



We are using an updated, automated system for the tournament sign-ups. All you have to do is fill out a form and hit submit! Fill out all fields as best you can, so that the commanders and admin team are able to get a good insight into you and your capabilities. You can check back regularly to see the status of your application.

Soldier Sign-Ups will close as soon as the Teams are filled! There are 110 slots in each team to be filled (75 members, 35 active reserves per team). Please note that after a team hits the 75 member limit, further applicants to that team will automatically be allocated to the reserves. The PRT Rules and Regulations explain what it means to be a reserve. The total number of slots available is 220 for both teams combined.


Read the following carefully!



Quote:


1. You need a working microphone and basic understanding of English to be able to participate in the tournament.


2. Once submitted, you cannot edit your application! Be sure your application is correct and complete!


3. You sign up for a Team (A, B, or "no preference") and NOT for one of the coalitions (MRF, PDI). These will be assigned to the teams only after both teams are filled! More information about the teams can be found here: Teamlead Announcement.


4. You can sign up with friends! Name 2 people you want to play with. Those two people also have to nominate you and each other.


Code:
Player A nominates Player B, Player C
Player B nominates Player A, Player C
Player C nominates Player A, Player B
Keep in mind that changing this later is not possible! Make sure everyone gives the correct information so that you can play together.


5. If you choose a team, you have the possibility to select a role you would like to take. Both teams set up some categories that you can choose from, regarding the role you would like to take in the tournament. You can specify what you like doing in PR in a free text field as well.


6. Make sure you read the Tournament FAQ as well as the Tournament Rules prior to signing up! It is especially important that you understand the activity requirements and have the time to participate in the tournament!


7. If you have any questions that you would like to ask before applying, you can post a Support Ticket. Not sure if you should sign up? Check out the links at the bottom and join us in IRC or the PRT Forums to have a chat!


8. If you have no account in the PR Tournament forums yet, Register here to be able to sign up as a soldier.


9. Officers/NCOs that were not selected (yet) and contacted will automatically get their signup moved to soldiers.


53 Replies | 3,269 Views
PR Tournament Campaign 11 - SCO/CO's Announced! Officer Sign-Ups open!
Sep 14, 2015 - 8:04 PM - by [T-ADM]Spook
High Command announced - Officer SignUps Open

After reviewing the applications that reached us the past week, the Project Reality Tournament Team is proud to announce part of the

High-Command Staff

for both teams. Once teams are full and SignUps closed, the teams (PDI and MRF) will then be assigned to each SCO based on their preference and mutual agreement (if such exists).




Team A
Supreme Commanding Officer (SCO): Cossack, Latvia



Quote:

Originally Posted by Cossack

Our teams motto will be "Those who dare, win".

This is the place where PR players come to test their mettle, and measure their abilities in the highest competitive environment in PR. If you want to push yourself, if you want to jump into the pressure cooker and see what you are made of this is the team for you. Get better, get out of your comfort zone, join me.

Cossack

Commanding Officer (CO): Aleon, Hungary





Team B
Supreme Commanding Officer (SCO): Danger_6, United Kingdom



Quote:

Originally Posted by Danger_6

When I think about the PRT, I evoke memories of good friendships, organised and intense fighting, team development and improvement and most of all, the best PR experience one could ever find.

My team will need people who will keep fighting in the face of defeat, people who will help others to improve and people who will create a fantastic and unforgettable tournament.

Join my team to participate in the ultimate PR experience. Forget PR as you know it and find something infinitely better.

Danger

Commanding Officer (CO): Fnixer, Denmark



With this setup, we have two experienced and skilled PRT veterans that have been very active in the community, gained alot of experience during C10 and thus have all the capabilities to perform on high standards and evolve throughout the campaign. The SCO's can now recruit further staff from their team's SignUps as well as have some of the other SCO/CO applicants join their ranks. The preparation time for both teams will give enough time to evaluate the performance of all staff and the teams are free to re-adjust the roles and responsibilities within their ranks as they see fit.





Both teams are now open for Officer and non-commissioned Officer Sign-Ups! Help leading the team you want to victory! For detailed instructions on how to sign up, follow this link:






The Admin team hopes for many good applications and is looking forward to welcoming you all to the Project Reality Tournament.


We would also like to announce that the PRT Wiki team has developed an advanced map gallery with many additional tools. The project is still work in progress and we are planning to implement many more features. Check out the live demo here: PRT C11 Map Gallery

1 Reply | 903 Views